Auto Electrician Apprenticeship
Are you fascinated by cutting-edge automotive technology and eager to play a crucial role in shaping the future of transportation? If you have a passion for automobiles and electronics, a career as an Automotive Electrician might be the perfect fit for you! As automotive systems become increasingly complex and reliant on advanced electrical components, the role of an Automotive Electrician has become indispensable in the automotive industry.
What is an Automotive Electrician?
An Automotive Electrician is a highly skilled and specialized professional responsible for diagnosing, repairing, and maintaining the electrical systems in various vehicles. These systems encompass a wide array of components, including wiring, batteries, lighting, ignition systems, electronic fuel injection, audio systems, and more. As vehicles continue to evolve and integrate sophisticated electrical features, the expertise of automotive electricians becomes pivotal in ensuring safety, efficiency, and optimal performance.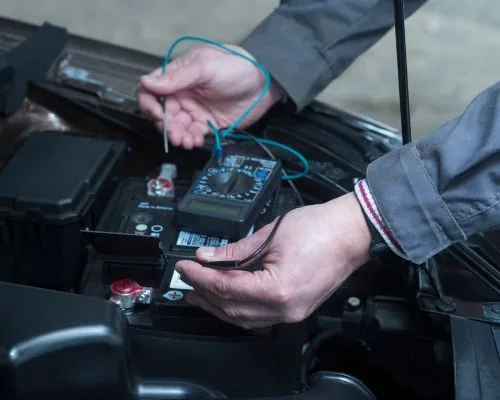 Fundamentals of Automotive Electrical Systems: Gain a deep understanding of the principles behind electrical systems in vehicles, including circuits, wiring, and electronic components.

Diagnostic Techniques: Learn to use cutting-edge diagnostic tools and software to identify and troubleshoot electrical issues with precision.

Electrical Component Repair and Replacement: Master the art of repairing and replacing faulty electrical components, ensuring optimal vehicle performance.

Vehicle Electronics Integration: Acquire the skills to integrate advanced vehicle electronics, such as infotainment systems, navigation, and driver-assistance features.

Electric and Hybrid Vehicle Technology: Explore the growing field of electric and hybrid vehicles, understanding their unique electrical systems and charging infrastructure.

Safety and Compliance: Learn about industry safety standards and regulations to ensure vehicles meet essential safety requirements.

Wiring Diagrams and Technical Manuals: Develop proficiency in reading and interpreting wiring diagrams and technical manuals, vital for effective repairs and installations.

Battery Systems and Energy Storage: Understand the various types of vehicle batteries, their maintenance, and the role of energy storage in electric vehicles.

Emerging Automotive Technologies: Stay up-to-date with the latest advancements in automotive electronics and their impact on future vehicle designs.

Practical Hands-On Experience: Apply theoretical knowledge in real-world scenarios through practical training, gaining valuable experience in an automotive workshop setting.
No prior knowledge or experience is necessary but a keen interest in technology, vehicles and a practical aptitude will help.
An apprenticeship is designed to teach you the skills and knowledge you need with practical training at work, and extra studies at a Registered Training Organisation.
An apprenticeship will get you started in the industry, and open up the doors to a great career.
There are no formal entrance requirements however you will need to be placed in an apprenticeship to start your training and you should be able to read, write and understand basic mathematical concepts. Successful applicants will be required to complete enrolment documentation. You must be an Australian Citizen or Permanent Resident.
What are my training options?
You can do a full-time apprenticeship, resulting in a Certificate III qualification. This includes training within a workshop as well as with a Registered Training Organisation (RTO). A school-based apprenticeship can also be completed whilst at school (the length of study may vary depending on the school, RTO and workplace arrangements).
Apprenticeships Are Us run pre-apprenticeship courses that commence throughout the year. This will provide the fundamental skills and potentially a pathway to start an apprenticeship.
Duration of an apprenticeship
This apprenticeship has a nominal duration of 4 years to complete, during which you must be employed in an apprenticeship contract. It is possible to complete the apprenticeship contract sooner if you achieve the necessary competencies before this time.
How far you go is completely up to you!
Your apprenticeship is the first step. It can get you started on the way to a successful career as a:
Qualified Mechanic ($50K – $100K)
Workshop Manager ($80K – $165K)
Franchise Owner ($70K – $180K)
Service Advisor ($60K – $120K)
Service Manager ($80K – $165K)
Sales ($70K – $160K)
Skills Trainer ($70K – $100K)
Warranty ($55K – $90K)
Business Admin ($50K – $90K)
Engineer ($90K – $190K)
Technology is always changing, creating a higher demand for skilled workers in the automotive industry.
HOW FAR DO YOU WANT TO GO?